The Mighty Mocambos: The Future Is Here
26 Oktober 2011 in
Musik
,
Video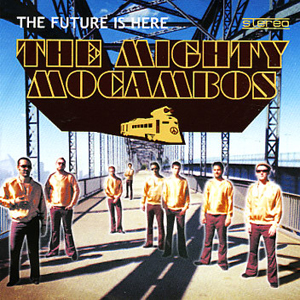 Die Mighty Mocambos kann man zu Recht als die derzeit beste deutsche Funk Band bezeichnen. Nach über zwanzig 45er-Singles, sowohl unter eigenem Namen als auch unter verschiedenen Pseudonymen, und dem exzellenten, mit Gizelle Smith als Sängerin eingespielten, Debüt-Album haben sie diesen Status definitiv verdient. Auch im internationalen Vergleich stehen die Mighty Mocambos bestens da. Das nun erschienene zweite Album kann die hohen Erwartungen voll und ganz erfüllen. Knarziger analoger Funk, der definitiv partytauglich ist, kombiniert mit cinematischen Sounds. Die Songs sind mal instrumental, mal mit Sängerin oder mit Hop-Hop-MC eingespielt. Letzteres ist eine Neuheit im Sound der Band. Funk war die Ausgangsbasis für HipHop, es ist daher nur konsequent dies in den Sound einer Funkband zu integrieren. Die Mighty Mocambos Interpretation des Grandmaster Flash & The Furious Five Klassikers "The Message" begeisterte nicht nur Kenny Dope, der das Stück remixte und auf seinem Label Kay-Dee herausbrachte, sondern wurde auch von anderen legendären Hip-Hop Heroes gehört. So sind auf dem neuen Album bei zwei Songs Africa Bambaataa, Charlie Funk und King Kamozie zu hören.
Die beiden auf dem Album vertretenen Sängerinnen sind ebenfalls eine Bereicherung für den Band-Sound. Bei dem großartigen "The Sun Shines Tonight" ist Su Kramer zu hören. Sie spielte in den späten 60er Jahren zusammen mit Donna Summer in der Orginalbesetztung des Musicals "Hair" und hatte in den 70er Jahren einige Songs gemacht, die durchaus recht funky waren. Legendär war vor allem der Song "Weisser Sand" aus dem Musical "Trip" (siehe Video).
Mit der französischen Sängerin Caroline Lacaze haben die Mighty Mocambos in letzter Zeit einige Songs aufgenommen. Auf dem Album ist sie dem Song "Physique" zu hören, ein wahrer Dancefloor Smasher!
Ein großartiges Album, das man definitiv noch oft bei der Funk Explosion hören wird!
Das Album ist am 17.10.2011 als CD bei Legere Records und die limitierte Vinyl-Version ist bei Mocambo Records erschienen.
The Mighty Mocambos: Future Is Here
Tracklist:
1 Calling The Shots
2 Zulu Walk with Afrika Bambaataa, Charlie Funk & King Kamonzi
3 The Sun Shines Tonight with Su Kramer
4 Struggle And Triumph
5 Transcendental Express
6 French Vanilla Skies
7 Physique with Caroline Lacaze
8 Battle with Afrika Bambaataa, Charlie Funk & King Kamonzi
9 Peace Street
10 A Brighter Darkness
11 Paranormals Theme
12 The Next Message
1 Kommentar to The Mighty Mocambos: The Future Is Here
Hinterlasse einen Kommentar
Next Date
FUNK EXPLOSION
Sa. 19.11.2016 | 22 Uhr
Goldene Zeiten Tübingen

mehr Info
---
Funk Explosion:
your monthly dose of raw funk & heavy soul. since 2002.
---
Radioshow
soulful freestyle from ancient to future
Sonntag 20-22 Uhr (live) Freitag 00-02 Uhr (Wiederholung)
Funk Explosion @ Facebook
Newsletter
Archive
Follow Funk Explosion @ Networked Blogs