From Keller to Keller …. Die Funk Explosion zieht um!
23 Februar 2013 in
Funk Explosion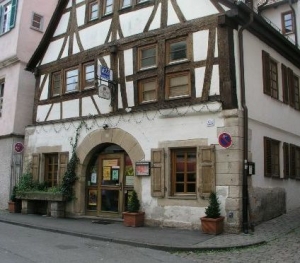 From Keller To Keller (frei nach dem Klassiker "From Disco To Disco" von Whirlpool Productions), die Funk Explosion zieht um:
Ab März 2013 wird der Jazzkeller in der Haaggasse das neue Domizil der Funk Explosion sein. Was könnte denn auch besser zu Funk und Soul Rare Grooves aus den 60er und 70er Jahren passen, als die schummrige Atmosphäre eines rauchigen Jazzclubs? Der alte Gewölbekeller hat genau die richtige Atmosphäre, die bestens zur Funk Explosion passt.
Eine stimmungsvolle Location, das habe ich in den letzten Jahren immer etwas vermisst. Ich möchte an dieser Stelle nochmals bei dem Bierkeller-Team für die sehr gute und angenehme Zusammenarbeit in den letzten sieben Jahren bedanken.
Jetzt beginnt ein neues Kapitel in der nun fast 11-jährigen Funk Explosion Geschichte. Ich freue mich schon auf die erste Funk Explosion im Jazzkeller, die am 9. März stattfinden wird!
1 Kommentar to From Keller to Keller …. Die Funk Explosion zieht um!
Sehr schade. Der Bierkeller ist ein sehr viel symphatischerer Schuppen als der Jazzkeller. Der Bierkeller war immer der besondere Reiz der Funk Explosion.

Firewall on 3 März 2013
Hinterlasse einen Kommentar
Next Date
FUNK EXPLOSION
Sa. 19.11.2016 | 22 Uhr
Goldene Zeiten Tübingen

mehr Info
---
Funk Explosion:
your monthly dose of raw funk & heavy soul. since 2002.
---
Radioshow
soulful freestyle from ancient to future
Sonntag 20-22 Uhr (live) Freitag 00-02 Uhr (Wiederholung)
Funk Explosion @ Facebook
Follow Funk Explosion @ Networked Blogs
Archive