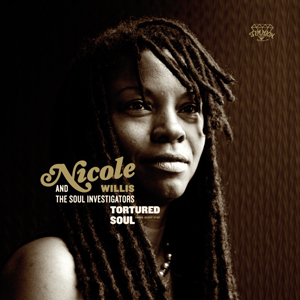 Als 2005 das Debüt-Album "Keep Reaching Up" von Nicole Willis & The Soul Investigators erschien, war die Soul und Funk Szene absolut begeistert.
Gut acht Jahre sind inzwischen vergangen und die Nachricht von einem neuen Nicole Willis & The Soul Investigators Album löste bei mir eine enorme Vorfreude aus. Die Erwartungen an "Tortured Soul" sind dem entsprechend hoch.
Der Sound der Band hat sich weiterentwickelt, klingt einerseits neuer und reifer zugleich, ohne andererseits den rauen Vintage-Soul Sound zu verlieren. So schließt das Album an den vor acht Jahren eingeschlagenen Weg an und geht ihn konsequent weiter.
Für die Produktion zeichnet sich Didier Selin verantwortlich, die Streicher-Arrangements sind von Pekka Kuusisto und die Bläser Arrangements von Jazz-Musiker Jimi Tenor.
Ein Album voller exzellent Songs, das bei mir derzeit in Heavy Rotation läuft.
Als kleine Kostprobe gibt es hier ein Live-Video von Nicole Willis & The Soul Investigators mit dem Song "Break Free (Shake A Tail Feather)" der auch auf dem neuen Album "Tortured Soul" zu finden ist.