HIT AND RUN meets FUNK EXPLOSION am 18. Juni 2016
20 Mai 2016 in
Funk Explosion
,
Veranstaltungen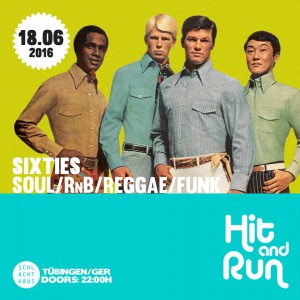 Nachdem die Funk Explosion Anfang Mai heimatlos geworden ist und daher eine Zwangspause einlegen muss, haben uns die Kollegen von HIT AND RUN zu ihrem Allnighter am 18. Juni eingeladen.
Der HIT AND RUN Allnighter zählt zu unseren Lieblings-Veranstaltungen in Tübingen und es ist uns daher eine besondere Ehre als Gäste eingeladen zu werden!
Michael und Ian begeistern schon seit einigen Jahren nicht nur das Tübinger Publikum mit ihrer exquisiten Mischung aus Northern und Rare Soul, Modern und Motown Soul, Sixties R'n'B, Rocksteady und Skinheadreggae.
Für das Gastspiel bei Hit And Run werden wir unsere Plattenkisten wieder sorgfältig neu sortieren, denn es gibt eine große Schnittmenge zwischen den Sounds beider Veranstaltungen. Die wollen wir gerne ausloten und dezent durch ein paar Funk Explosion typischen Nummern bereichern.
Ihr könnt euch also auf eine explosive Mischung gefasst machen!
Hit & Run Resident-DJ's:
Michael Sulz (Soul galore)
Scoundrel the Fatman (Rocksteady/Early Reggae)
und als Gäste die Funk Explosion DJ's:
Martin Hagenbuch (Soul Unlimited @ Wüste Welle)
Tim Stanik (Dortmund)
Hinterlasse einen Kommentar
Next Date
FUNK EXPLOSION
Sa. 19.11.2016 | 22 Uhr
Goldene Zeiten Tübingen

mehr Info
---
Funk Explosion:
your monthly dose of raw funk & heavy soul. since 2002.
---
Radioshow
soulful freestyle from ancient to future
Sonntag 20-22 Uhr (live) Freitag 00-02 Uhr (Wiederholung)
Funk Explosion @ Facebook
Follow Funk Explosion @ Networked Blogs
Archive