Mark Capanni: I Believe in Miracles
30 April 2010 in
Rare Grooves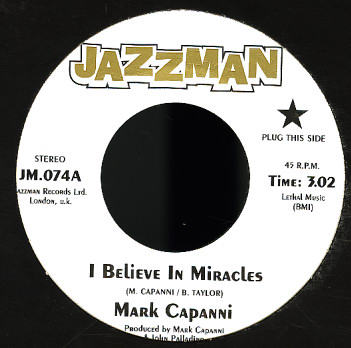 Jeder kennt diesen Song: "I Believe in Miracles" ist in der Version der Jackson Sisters einer der Rare Groove Klassiker schlecht hin. Doch dies ist nicht die Original-Version dieses Songs. Mark Capanni, der den Song zusammen mit Bobby Taylor geschrieben hat, nahm 1973 seine Version dieses Songs auf, gut ein Jahr bevor die Version der Jackson Sisters erschien. Eine großartige Folk-Jazz Orchestrierung im Stile einer David Axelroth Produktion, die allerdings nicht den Erfolg haben sollte, den sie verdient hätte. Das Original wurde erst kürzlich wiederentdeckt und ist als Original-Pressung extrem schwer zu finden. Jazzman Records haben sie nun als 45er Single wiederveröffentlicht.
*Mark Capanni: I Believe in Miracles
3 Kommentare to Mark Capanni: I Believe in Miracles
ich möchte ja nichts behaupten, aber der song "i believe in miracles" wurde doch von den jackson sisters im November 1973 auf 7″ auf dem Label MUMS herausgegeben (S Mum 1829, 1973) und Mark Capianni's Version erst im 1974 bei Capitol Records Inc. oder gab es da frühere bewiesene Aufnahmen, oder anders gefragt, wie kann man beweisen wer den Song zuerst geschrieben hat?
Grüsse

funkmarker on 19 April 2011

die Frage hab ich mir auch gestellt. Ich glaube die 14 Monate Unterschied (von denen auf diversen Seiten zu lesen ist) zwischen den Veröffentlichungsdaten wurden vertauscht. Die Jackson Sisters veröffentlichten im Sep-Nov. '73 und Marc Capanni ungefähr im selben Zeitraum des Folgejahres, was auch zur Jahresangabe 1974 auf dem Label passt.
Im soul-source.co.uk Forum fand ich ein angebliches Zitat von Mark Capanni: "Marco here (Mark Capanni). For your information, my recording was the first recording, however it was released as a promo and published after the Jackson Sisters' "
Wer hat nun gecovert? derjenige der als zweites aufnahm oder der als zweites veröffentlicht wurde?

Dave on 2 März 2012

Die zweite Aufnahme würde ich als Coverversion betrachten.

martin on 5 Januar 2013
Hinterlasse einen Kommentar
Next Date
FUNK EXPLOSION
Sa. 19.11.2016 | 22 Uhr
Goldene Zeiten Tübingen

mehr Info
---
Funk Explosion:
your monthly dose of raw funk & heavy soul. since 2002.
---
Radioshow
soulful freestyle from ancient to future
Sonntag 20-22 Uhr (live) Freitag 00-02 Uhr (Wiederholung)
Funk Explosion @ Facebook
Follow Funk Explosion @ Networked Blogs
Archive